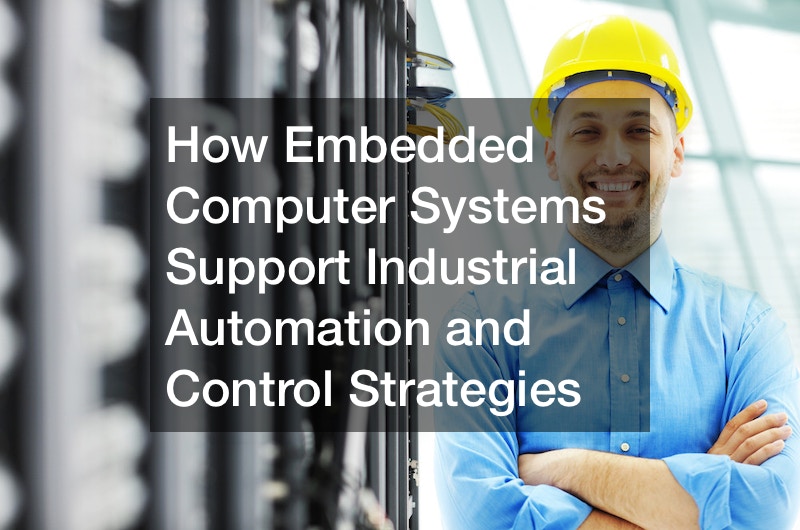 The origin of embedded computer systems is traced back to the 1980s, and more technological advancements have impacted industries. New systems monitor, manage and react to changing data instantly. Embedded computer systems transform what was previously manual work into computerized work. The following outlines how embedded computer systems support industrial automation and control strategies.
Manufacturing
The manufacturing industry houses mass production and product assembly. Embedded computer systems control the production line; in some cases, they provide preliminary visual verification of the assembly line process. With embedded computer systems, workers can produce goods with greater accuracy and precision.
These systems are used in manufacturing products with numerous interchangeable parts, such as cell phone cases and other items that require repeatable design patterns.
The engineering and construction industry processes mechanical parts, electrical components, and other raw materials. Embedded computer systems are used to control and monitor a variety of processes throughout the construction process. For instance, computer systems monitor all aspects of the building process, from new installation, inspection, and fabrication.
The computer systems also automate work in industrial design offices where steps in a design process are monitored, digitized, and evaluated at every stage. The aerospace industry uses embedded computer systems in the assembly process. Frequently, the control and monitoring of aircraft are done through computer networks used to monitor flight patterns, detect aircraft malfunctions and transmit flight data over a wireless network.
Embedded computer systems are also used to control warehouse operations, such as inventory control, shipping, and receiving. These are all vital operations that impact the success of any business. Regarding industrial automation, embedded computer systems are used to automate processes, improve efficiency and decrease costs. For instance, drive over conveyor belts, automated forklifts, and drills can significantly cut production costs.
Embedded computer systems are used in many operations in all industries. The key opportunities for these computer systems are improvement and enhancement of communication between the control systems to improve productivity and effectiveness of industrial processes.
Asset Tracking
Computer systems facilitate industrial automation and control strategies through asset tracking, whereby the exact location of items is always known. These systems keep track of the location and status in real time.
Embedded computer systems are also used to control storage areas through temperature and humidity sensors. In addition, these systems can monitor the storage areas from a central location allowing personnel to be away from the facility for longer periods without sacrificing valuable assets.
Asset tracking allows for better inventory control and helps businesses to maintain a competitive edge in terms of product quality, high profitability, and greater market share.
HVAC Control
Industries that rely on heating, ventilation, and air conditioning (HVAC), such as hospitals, laboratories, and commercial buildings, use embedded computer systems to control various HVAC components, such as the breathing air compressor. These systems are monitored through a centralized computer. The system records temperature, humidity, pressure, and other important factors, allowing businesses to react to changing circumstances quickly.
Embedded computer systems can collect data about processes that lead to electrical power generation for commercial or industrial use. Some possibilities include solar-powered industrial facilities, wind power generation, biomass, and hydraulic elevators. Additionally, embedded computer systems can collect data about the use of water and its purity levels which will also help to enhance energy efficiency.
Energy Management
An energy management system is a computerized system whose primary function is to control the delivery of electrical power in various modes. The battery-powered devices communicate with an embedded computer system through a wireless network. The computer system can use sensor data to detect the operational condition of the various components through automated means.
Embedded computer systems are used in tracking heavy machinery. These systems can track where heavy machinery is located and can be programmed to warn when equipment is not being used. The process is an excellent way of ensuring that heavy machinery is being used as efficiently as possible, thereby saving money for businesses.
Regarding industrial automation and control strategies in energy management, the systems focus on increasing the efficiency of power consumption, reducing consumption, and optimizing the delivery of electrical power. For instance, elevator companies can improve power consumption efficiency through automatic error messages. There is also an improvement in the use of power for elevators in office settings and residential buildings with the use of sensors that detect empty passenger floors and shut down power to eliminate wastage.
Implementing embedded computer systems can help improve office and domestic electrical usage, supply, and delivery. Embedded computer systems are used to monitor the delivery and distribution patterns of electrical power from generation sites to points of consumption, helping to reduce electricity wastage.
Cooling towers also utilize these technologies. When using embedded computer systems, cooling tower operators can monitor the water level in the system and adjust the flow rate accordingly. The process leads to better energy efficiency for businesses and prevents water wastage.
Industrial computer systems are designed to improve operational efficiency and reduce costs by collecting data from multiple sources and using algorithms to analyze it centrally. The process is a crucial trend in the business with the increasing use of centralized computer systems in information processing, communications, client-server system architecture, and the Internet of Things.
Using embedded computer systems also allows businesses to optimize processes, reduce costs, and increase efficiency while not compromising on output quality. Businesses that need to lower operational costs can implement embedded computer systems controlling energy consumption. An implementation process is a modular approach in which multiple computer systems are implementable simultaneously. The system provides a flexible and adaptable technological foundation that supports growing businesses and new ideas as they continue to grow.
Industrial automation and control strategies focus on thermal insulation covers by monitoring the temperature and water level of the water. The data retrieved through embedded computer systems are then used in thermal insulation. The development of these technologies can lead to increased energy efficiency and a reduction in the overall cost of operation.
Industrial automation and control strategies are part of a growing trend with the convergence of control strategies with information technology. Embedded computer systems play an important role by providing organizations with better control over their processes. As a result, businesses can become more efficient and effective.
Simulation and Visualization
Regarding industrial automation and control strategies, simulation and visualization techniques are essential in the design process. Simulation and visualization allow engineers to study and test a complex system without requiring the actual physical components or parts of the system under consideration. The simulation process can also be used as a training tool for new employees, improving their understanding of what is required to complete tasks in a particular application.
Simulation and visualization techniques play an important role in both industrial automation and control strategies, as well as in other areas with processes that require simulation. For instance, commercial space management systems often use this technique to establish effectiveness. The systems are designed to simulate the movements of spacecraft and coordinate their movements with the movement of satellites to ensure no interference between them. The process also allows businesses to determine how best to supply services or products for regional or global distribution.
Simulation and visualization techniques in industrial automation play an important role in ensuring that products perform as required, regardless of external factors. When applied in computer programming, simulation and visualization techniques allow engineers to test all possible scenarios within a large system before implementation. The technique applies in glass to sand crushing machines because it allows engineers to test the machine's functionality before manufacturing components for a final product.
These techniques are used in mechanical engineering to test the feasibility of an idea before creating a physical product. The process allows businesses to determine whether a particular idea is viable or not, saving time and money on physical prototypes.
Simulation and visualization techniques are important for the industry to ensure optimal results are achieved under varying circumstances. The techniques allow engineers to evaluate the performance of each element in a system without having to create a physical prototype. Modeling is an important part of this area, requiring continual work to update the model as new information becomes available.
Employee Safety
Industrial automation and control strategies focus on employee safety through various computer systems. The automated systems allow businesses to monitor the whereabouts of their employees and ensure that they do not come into contact with hazardous materials. These technologies allow businesses to protect their employees' safety through real-time monitoring and prevention.
Using embedded computer systems in automation and control strategies ensures that workers are aware of a problem and remain safe. A forklift service would require employees to wear safety gear for protection which can become cumbersome during an emergency. Embedded computer systems limit the need for employees to wear heavy protective gear in these situations.
Embedded computer systems are also used in industrial automation and control strategies to provide security for industrial plants and other critical sites. These technologies enable transport companies, building designers, and construction companies to monitor their workers and ensure they are not exposed to hazardous materials. Large companies utilize these technologies, such as overhead crane service, to ensure that their employees are safe from dangerous materials such as asbestos.
The technology allows managers to make quick decisions by leveraging the pictures and video taken from a powerful CCTV system. Businesses also use technology to ensure that they comply with safety standards in terms of legislation and occupational safety regulations.
Operations Research
Industrial automation and control strategies focus on operations research through various computer systems. These systems are used for planning, analysis, decision-making, etc., to ensure that management can run their business more efficiently and effectively. These systems typically include forecasting, inventory management, and production scheduling.
Modern production systems typically include automated machines that require ongoing monitoring to ensure that they run efficiently. The use of embedded computer systems in industrial automation provides businesses with the ability to monitor these machines.
Industrial automation and various control strategies focus on the quality of their products through various computer systems. These embedded computer systems allow businesses to test their products' functionality before manufacturing components for a final product. The process also reduces wastage in manufacturing products by providing diverse information about the manufacturing of each product.
The use of industrial automation helps businesses reduce risk by allowing them to know exactly when parts are arriving and where they are located. Real-time data allows businesses to develop and maintain supply chains that bring together appropriate components at the correct time and location. The combination of real-time data, computer systems, and embedded computer systems makes it possible to provide businesses with intelligent solutions that increase efficiency and reduce waste.
Predictive Maintenance
Industrial automation and control strategies focus on predictive maintenance techniques, which prevent costly downtime in a business. A predictive maintenance module can be automated by using state of the art in embedded computer systems to monitor each piece of equipment. It does this by collecting data from sensors and analyzing it using software programs designed to fix any problems as soon as they occur. These programs will help companies extend their equipment's useful life without worrying about breaking down during an important process.
An example of this is a utility truck that is utilized for transporting equipment for a factory. The truck is used daily, but one failure can cause more problems than anticipated. The truck service must monitor the vehicle at all times to avoid any delays or issues during the process.
A predictive maintenance module can help reduce downtime and prevent any issues by providing real-time information about equipment performance so that it is fixable within minutes.
Conclusion
Embedded computer systems are important in any industrial plant or manufacturing facility. They provide businesses with the ability to track and manage their inventory and production schedules and also provide them with fail-safes in case of any issues. These features are a key part of industrial automation and various control strategies that help businesses to operate more efficiently and effectively.